Sweets and Seats: The World of Color Dessert Party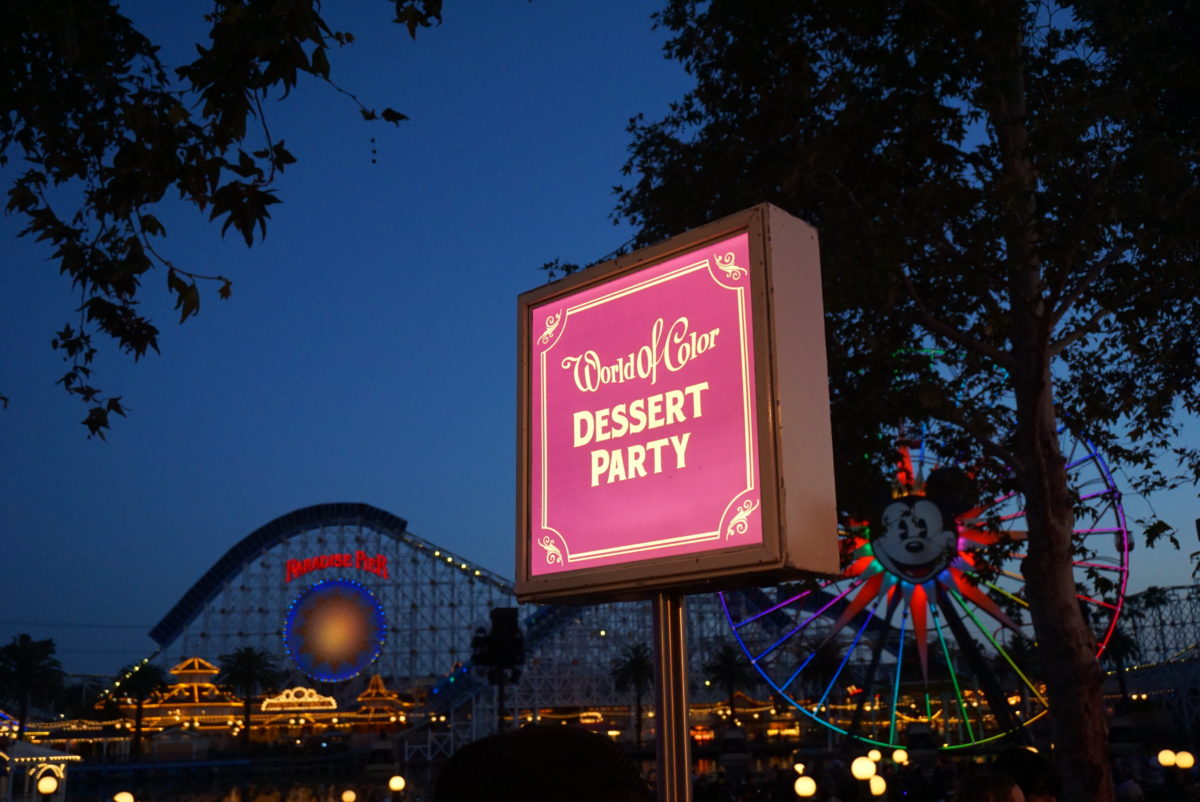 When my friend and blog editor Lisa Robertson of Babes in Disneyland (the Disney blog I contribute to) invited me to a media showing of Disney California Adventure's World of Color (WOC) Dessert Party, I knew I couldn't pass this opportunity up!  I didn't know what to expect as I had yet to participate in any of the dining and show packages offered at the Disneyland Resort (i.e. Fantasmic! Dining package, World of Color Dining Package, etc.)  The only information I had gleaned from the website was that anyone who participates in the World of Color Dessert Party got some sweet eats and priority seating for the World of Color: Celebrate show (currently featuring Neil Patrick Harris and celebrating Walt Disney for Disneyland's 60th).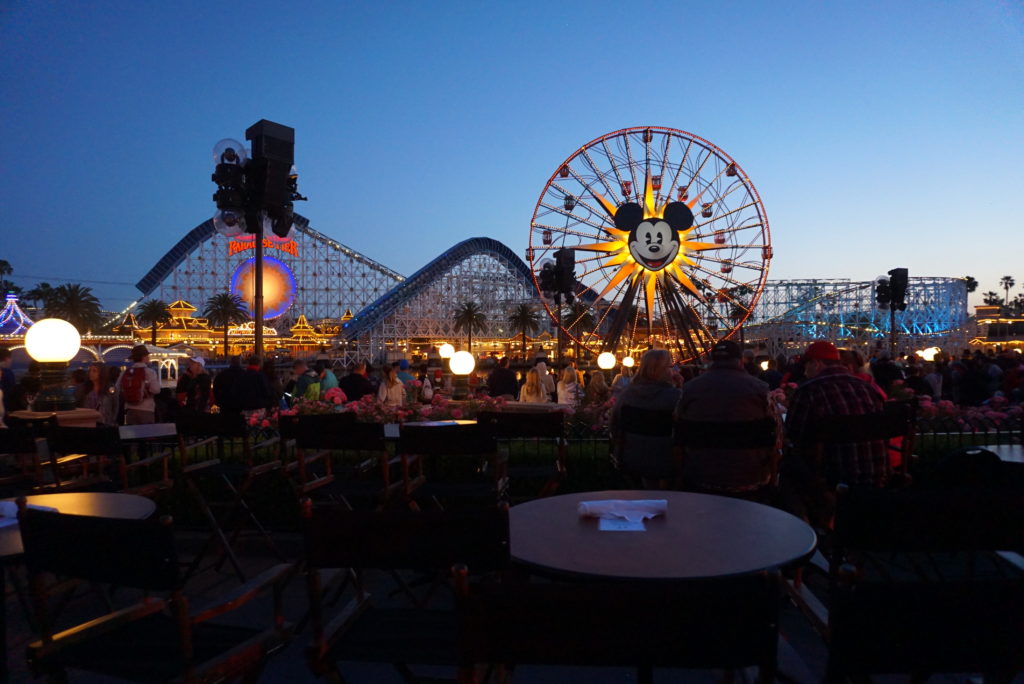 When we arrived, we were ushered into a queue where a bright lit sign very simply states "World of Color Dessert Party."  When it came time to check in, the hostess checked names and party count before sending us down the line to be escorted to our table – yes, you read that, our table with chairs!  This was a seated viewing, not just a standing-room-only affair where you try to balance all your food with your hands and enjoy the show at the same time.
Our waitress arrived and offered us beverages as we were enjoying a basket of breadsticks.  She offered up a glass of champagne, coffee, tea or soda, or a "Wonderful Cooler" – a cocktail comprised of Sprite, lemonade, blue liqueur, and coconut rum.  I love a good colorful drink, so I opted for the Wonderful Cooler – which was wonderfully delightful!
While other dessert parties at Disney Parks offer desserts buffet-style (think Epcot's Illuminations Dessert Party), the World of Color dessert party is plated. Our waitress then came by with our plates of goodies and unveiled them in front of us – voila! What a delectable spread that didn't comprise of solely sweets.  For the record, the desserts included a shortbread filled with dulce de leche (super sweet); a mini French macaron (mine was mango flavored but several other people had chocolate); a chocolate mocha mini bundt cake (to. die. for); Mickey-shaped coconut macaroon (with dipped ears! So good); three types of cheese (cheddar, Manchego, and a mini brie that I schmeared all over the slices of baguette bread); a bunch of grapes; and a mini waffle bowl dipped in chocolate that had a delightful whipped mousse and fresh berries.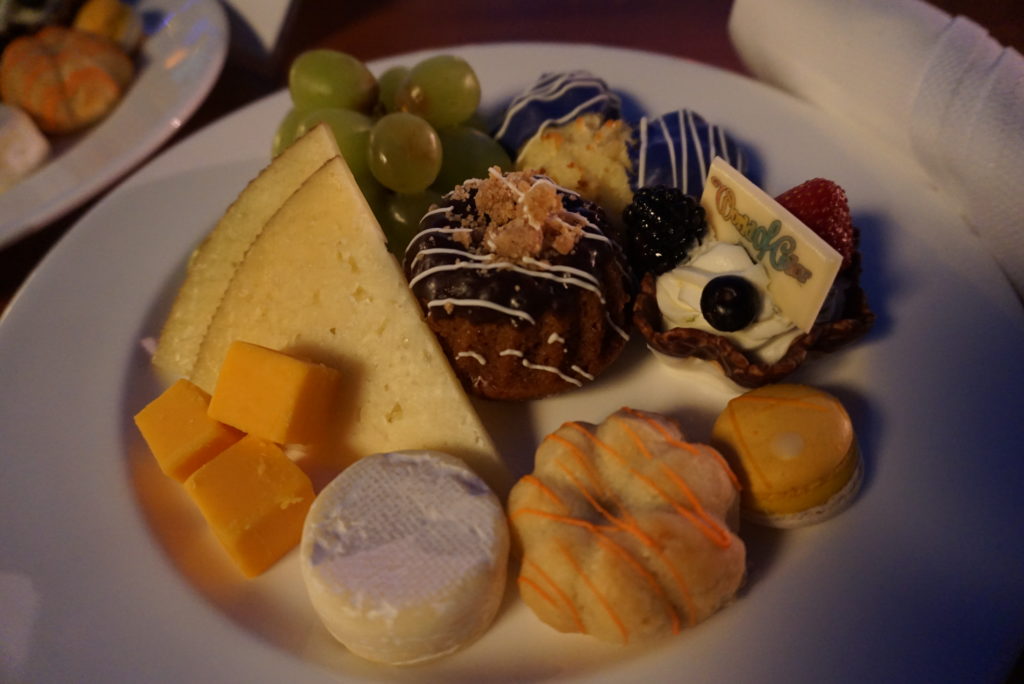 As I decided whether or not to try the sweet vs. the savory first, the music began, the lights dimmed and "World of Color" commenced!  It was so exciting to have a SEAT during the show, enjoy some nice snacks, and get an amazing view while we were at it!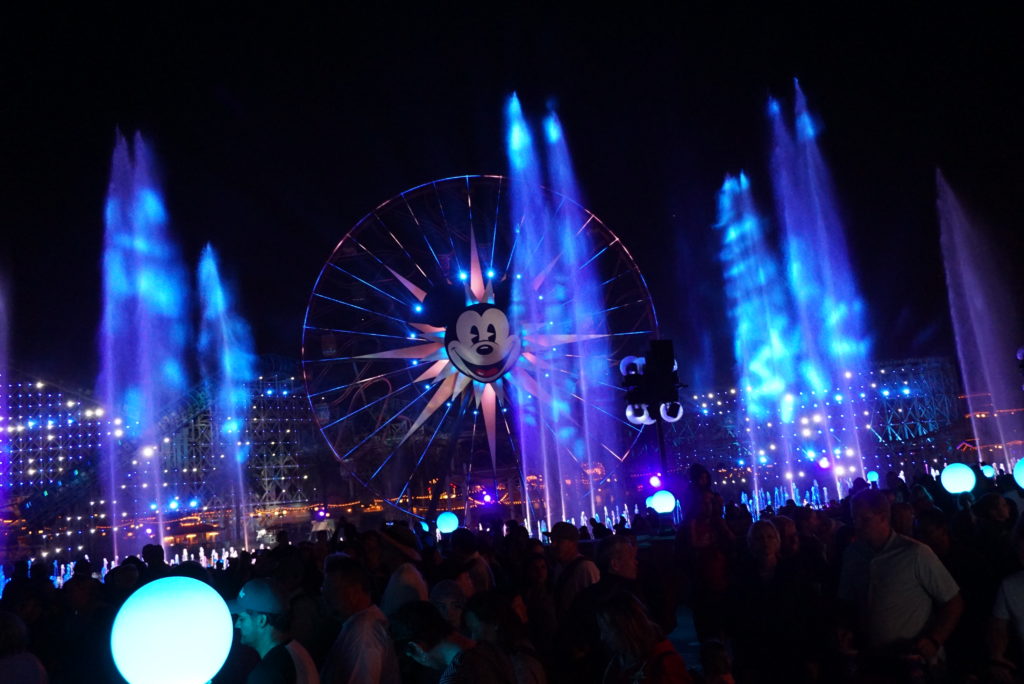 If you're looking for a unique or special occasion experience, or you've been dying for a chance to enjoy World of Color without having to stay on your feet (not to mention, while enjoying a bunch of Disney-approved sweets), then be sure to make a reservation to check out the World of Color Dessert Party.  The price for this event is $79, which includes tax and gratuity.  From what I could tell, it is the same price for both adults and children.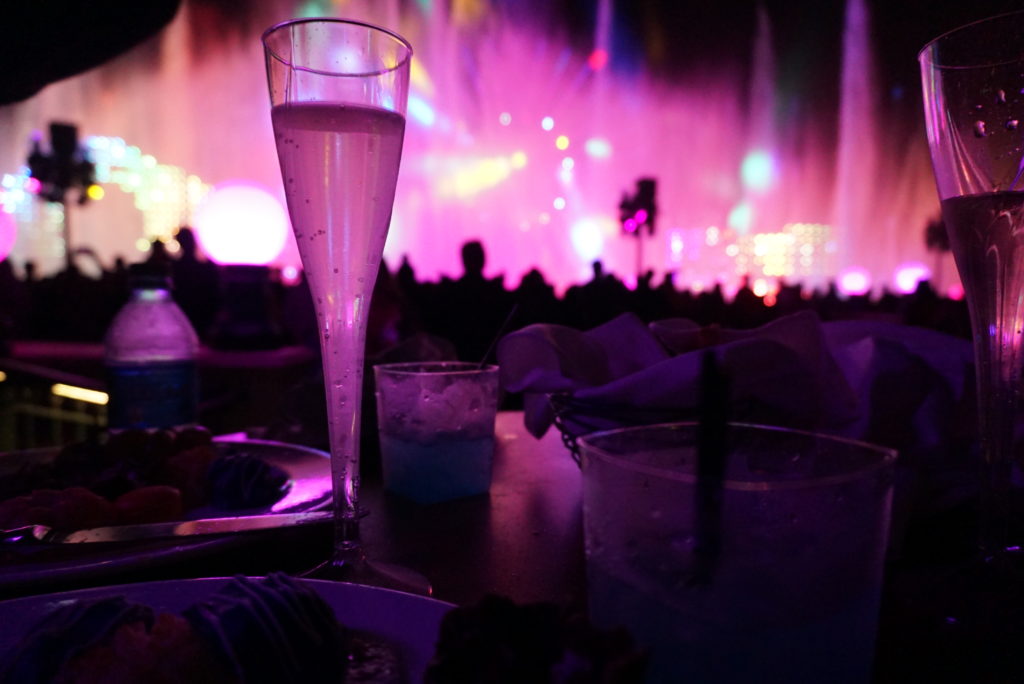 Will you be attending the World of Color Dessert Party or will you give it a pass?
I was invited as a guest of a member of the media to attend the World of Color Dessert Party. I was not compensated for this review and all opinions are my own.
---
---